The June selection for the Inspired by Reading Book Club was The Drunken Botanist by Amy Stewart and what a fun and informative book it is. I was captivated from the first pages of the Aperitif where she describes how this book came into being. I think it was her love of jalapenos and her introduction to me of the concept of "muddle" that got me to keep on reading. And of course because I love plants. Amy's knowledge about them is astounding and fun!! The book's format invites browsing and curiosity. I am sure that I will be forever looking into it to find out more about plants I love and ones I have never heard of.
As I mentioned earlier, my curiosity was perked by the use of the word muddle. After I found out what it meant, it became the cornerstone of what I was inspired to make for today's blog post.
Yes, that is right, I made a muddle stick necklace. First I looked up what a muddle stick might look like on Google Images and realized that I had one ready made right in my stash--that is almost ready made. I did have to add a few components.
Picture of my loom part
I didn't know exactly what it is called but knew it was for textile manufacture so again I looked on Google Images and found something similar and traced it back to its technical term: pirn bobbin. And then just for fun I looked on Etsy and
there
they were. I had gotten mine some time ago in antique mall.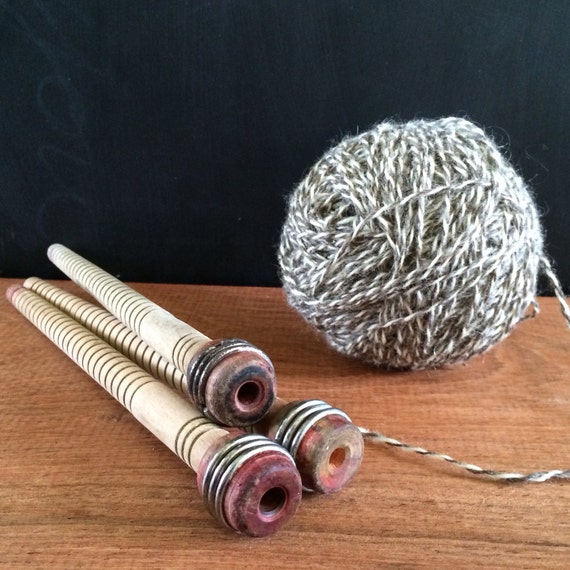 Pirn bobbins on Etsy
Since I have adapted mine somewhat to meet the needs of muddling: a long stick to bruise herbs, and other plants to flavor a drink, I attached a texture disk that I had on hand to the bottom and strung it all together with a very long and sturdy balled head end pin and then made the wrapped loop for stinging it.
copper clay textured disk by Mary Harding
When it came to stringing it all together I actually gave up the balled end head pin and instead wire wrapped it to one of my porcelain ceramic beads.
and then strung on the pirn bobbin and attached the textured disk with a small spacer and a wrapped loop. I attached a small garlic clove to it it for decorative purposes. I did not find any reference to using garlic in a muddle but I suppose you could.
And finally an overall view
Overview Muddle Necklace by Mary Harding
If you are interested in trying a muddled cocktail I would suggest The Mamani Gin and Tonic on page 238 even though I have not. I just think the idea of jalapenos and cilantro with tonic would delicious. I may even try it without the gin since we don't have any on hand.
Thank you once again Andrew Thornton for a wonderful blog hop and opportunity to let our imaginations run wild and have fun doing it.
Now to visit the others and see what they made.